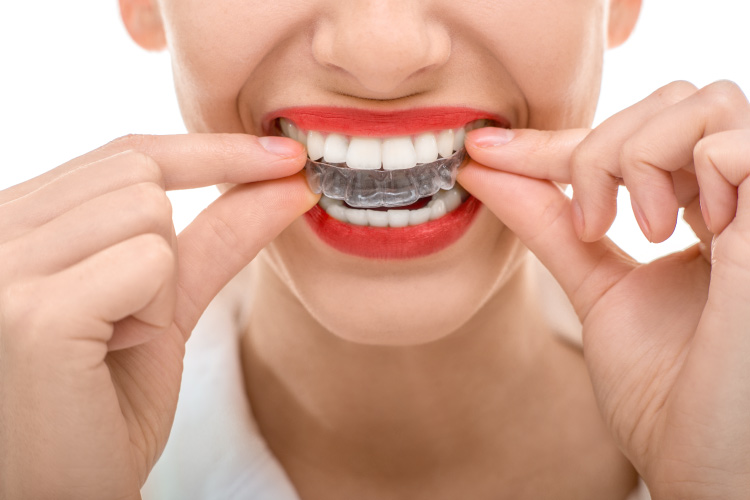 How Do Clear Aligners Work?
January 22, 2023 8:00 am
---
Orthodontics treat alignment problems of the teeth, bite, and jaw. You might think of traditional metal braces when you think about orthodontics, but there's another option that is a fantastic, subtle way to straighten your teeth: clear aligner therapy.
At Alma Dental Care, we offer Invisalign® and SureSmile® clear aligner therapy for responsible teens and adult patients who are looking for a powerful but discreet way to straighten their smile.
What Is Clear Aligner Therapy?
Clear aligner therapy is a type of orthodontic treatment that uses clear aligners that temporarily slip over the teeth instead of brackets and wires bonded to the teeth. While braces are appropriate for all types of misalignment, clear aligners are best for mild to moderate issues with crookedness, spacing, and the bite.
Two other differences between clear aligners and traditional metal braces are that aligners are clear and removable. Patients should remove their aligners for meals, snacks, drinking anything other than water, and when brushing and flossing their teeth.
About every two weeks, the patient switches to wearing a new set of clear aligners to guide their treatment along.
The average duration for clear aligner therapy is between 6 and 18 months.
How to Get Clear Aligners
During your consultation, you and our team will discuss your misalignment, budget, and lifestyle to determine if clear aligner therapy is the right treatment for you. If it is, we will take impressions of your teeth to get the process started. We'll have periodic check-ins to ensure your treatment is progressing well and let you know when to switch to a new set of aligners and if you need any sort of refinements in your treatment plan.
Affordable Clear Aligners in Petaluma, CA
Are you interested in learning more about how clear aligner therapy can help you reach your smile goals? Please contact us today to schedule a consultation! Before your visit, you can take a look at our affordable payment options or other cosmetic services. We look forward to seeing you soon!
Categorised in: Cosmetic Dentistry