Cosmetic Dentistry
in Petaluma, CA
Cosmetic dental treatments are an excellent option for patients who want to enhance the appearance of their teeth as well as their overall appearance. Our cosmetic services are designed to help our patients smile with confidence and feel great about how their teeth look! To learn more about our services or schedule your next visit with us, please contact us.
Contact Us
Opalescence & KöR
Professional Teeth Whitening
Professional teeth whitening services are perfect for both patients who just want to touch up the color of their teeth and patients who want to greatly enhance the color of their teeth. Our office uses KöR teeth whitening and Opalescence whitening, two highly effective teeth whitening treatments that are designed to lighten the teeth very evenly and effectively. Professional teeth whitening treatments guarantee that you'll get great results, and our team would be happy to help you choose your perfect custom color and enhance your smile!
Porcelain
Veneers
If you are interested in achieving a perfect, Hollywood-inspired smile, traditional porcelain veneers are the way to go. Veneers are thin, tooth-colored shells that are customized based on each patient's unique preferences and needs. Traditional veneers require some enamel to be removed from the front of the teeth so they can fit well, which makes them a permanent cosmetic treatment. Once the teeth are prepped, impressions are taken, and temporary veneers are placed. After the permanent veneers are complete, they will be placed over the teeth, and any additional modifications will be done to ensure they look fantastic.
Lumineers®
Lumineers are a less-invasive alternative to traditional veneers. They are thinner than veneers, which means there is very little prep work required before they can be placed, and they are not considered a permanent treatment, as patients can have them removed at any time. Because they are thinner than traditional veneers, they tend to look more natural, which can be a great benefit for patients who are going for a natural look. Our team would be happy to help you decide which option is right for your smile.
Invisalign® & SureSmile®
Clear Aligners
Alma Dental Care offers clear aligner therapy through both Invisalign and SureSmile. These clear aligners are known for being very smooth and comfortable to wear for hours at a time. They are also thin enough to appear virtually invisible on the teeth, making them a very discreet option. Since clear aligners are completely removable, patients can continue enjoying their favorite foods and maintaining the same at-home oral care routine that they're used to. Average treatment times are between 6 and 18 months, so you may be able to achieve a straighter smile as early as this year!
Learn More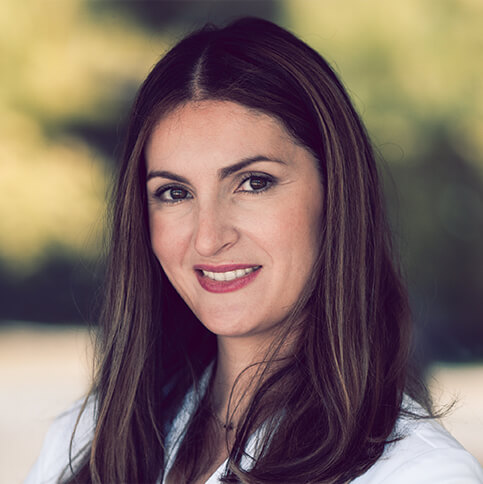 Dr. Maria Serrano
"I love helping patients feel more confident about the appearance of their teeth, and cosmetic dental treatments are the perfect way to do just that!"
Contact Us
Free Virtual Consult