Same-Day Dental Crowns
in Petaluma, CA
Preserving your natural teeth for as long as possible is in the best interest of your oral health, oral structure, and appearance. If you have a fractured or weak tooth, it is essential to address the issue before it worsens. At Alma Dental Care, we can craft a same-day CEREC® crown to protect and strengthen your tooth for years to come. With our same-day dental crowns, you can enjoy a healthier, natural-looking smile!
Contact Us
What are
same-day dental crowns?
Dental crowns are tooth-shaped caps that cover and preserve the structure of damaged or weak teeth and prevent further complications. Patients with weak, fractured, decayed, or broken teeth can benefit from same-day dental crowns. Same-day dental crowns are natural looking, durable, and made to feel comfortable. Unlike traditional dental crowns, same-day dental crowns are complete in just one visit!
What is the process for
getting a same-day dental crown?
Our office uses CEREC technology to create same-day dental crowns. CEREC is a new and innovative technology that allows us to construct, mill, and place dental crowns in a streamlined process. While the process may differ between patients, we typically take high-definition images of the tooth with an intraoral camera to create a model of the tooth. Our model design is sent to the milling machine, which will craft the same-day CEREC crown on-site, allowing us to place it the same-day, restoring your smile in a timely manner.
When do same-day CEREC crowns
need to be replaced?
To get the longest use of dental crowns, they need to be cared for the same way you care for your natural teeth. Daily brushing and flossing your dental crown and natural teeth is the best way to avoid complications. Regular dental visits are also a great way to maintain the condition of your dental crown. If your dental crown has visible damage or is causing you pain, we encourage you to schedule an appointment as soon as possible to see if your crown needs to be replaced.
Are same-day crowns just as durable
as traditional dental crowns?
Patients are sometimes hesitant to receive CEREC crowns due to concerns that they will not hold up as well as crowns that are created in an off site lab. Fortunately, due to advancements in dentistry and dental technology, same-day dental crowns are just as durable as crowns that require two or more appointments to receive. CEREC crowns are made with an extremely reliable ceramic material that is designed to look natural and protect the teeth very effectively.
Will my CEREC crown
stand out?
CEREC crowns are completely customized for each unique patient. Since CEREC crowns are designed, created, and placed in the same day, Dr. Serrano designs each crown to blend in perfectly with the surrounding teeth in terms of size, shape, and color, and patients do not have to worry about wearing temporary crowns that look out of place. Our team always uses the closest shade match and glazes and characterizes the new crown with special products to match the color as closely to the other existing teeth as possible.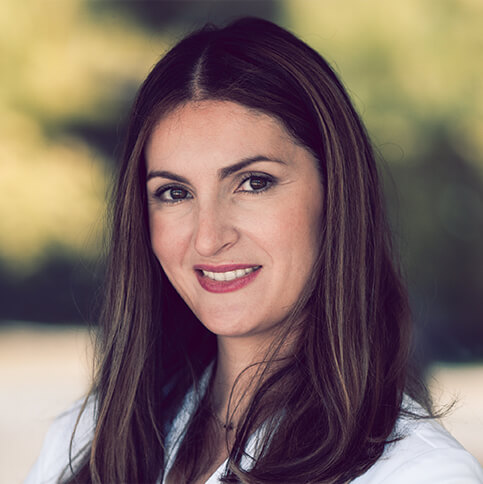 Dr. Maria Serrano
"Alma Dental Care offers a wide range of restorative dental services that are designed to meet you and your family where you are at on your unique dental journeys."
Contact Us
Free Virtual Consult