General Dentistry
Alma Dental Care is proud to provide general dental services that virtually every patient needs, as well as specialty services that are designed to prevent and treat specific dental problems. Preventive dental care is crucial for maintaining a healthy smile, as it's your first line of defense against issues like tooth decay, gum disease, dental trauma, and more. To learn more about our services or schedule your next visit with us, please contact us!
Contact Us
Routine Cleanings
& Dental Exams
Everyone over the age of one should visit their dentist at least twice per year for a routine cleaning and dental exam, regardless of how healthy their teeth and gums are. Professional teeth cleanings remove plaque that builds up in areas that are hard to clean, which reduces your chances of developing tooth decay, while dental exams provide our team with an opportunity to diagnose and treat any dental issues that may have arisen since your last visit.
Periodontal
Maintenance
If you have periodontal disease or are at risk of developing periodontal disease, we may recommend that you visit our office more frequently for dental exams and deep cleanings. Scaling and root planing can be performed to thoroughly clean the gums and remove built-up plaque and tartar from the gum pockets. We may also apply Arestin®, an antibiotic that is designed to keep the gums clean and healthy for many months post-treatment.
Dental Sealants
& Fluoride Treatments
Dental sealants and fluoride treatments are excellent preventive services designed to keep the teeth healthy, strong, and cavity-free. Dental sealants are clear coatings that are applied over the top of each molar, acting as a barrier between the tooth and harmful, cavity-causing bacteria. Fluoride treatments are often done after teeth cleanings to strengthen tooth enamel, which can also reduce your chances of developing tooth decay.
Oral Cancer
Screenings
Oral cancer is highly curable when it is diagnosed and treated early, which is another reason why we recommend scheduling dental exams and oral cancer screenings on a regular basis. During your dental exam, Dr. Serrano will be checking your teeth, gums, and the inside of your mouth for signs of dental issues as well as oral cancer. If you begin to have difficulty swallowing, enlarged lymph nodes, or unusual sores in or around your mouth, please schedule a visit with our team.
Athletic
Mouthguards
Athletic mouthguards are a great investment for patients who regularly participate in aggressive contact sports like football, soccer, and rugby. Our durable athletic mouthguards can make all the difference when it comes to protecting your teeth and gums from dental trauma during practices and games. Their custom fit makes them feel much more comfortable on the teeth, which typically means that patients are more likely to wear them regularly.
Nightguards
for Bruxism
Do you grind your teeth at night? Occasional grinding during times of heightened stress and anxiety is normal, but chronic teeth grinding can cause irreversible damage to the teeth and gums. Wearing a high-quality nightguard every night is a simple habit that patients with bruxism can implement to prevent their teeth from damaging each other. Our team can check your teeth and gums for signs of grinding to see if a custom nightguard is right for you.
TMJ/TMD Therapy
TMJ, or temporomandibular joint disorder, is characterized by chronic teeth clenching. Patients with TMJ often report jaw pain, stiffness, and soreness. If any of these symptoms sound familiar to you, our team can provide you with some jaw exercises and create a custom mouthguard for you. Our nightguards for TMJ are designed to absorb pressure from the jaws to take the pressure off of your teeth and reduce the strain on your temporomandibular joint.
Emergency Dental Care
in Petaluma
Dental emergencies can be scary and stressful. Fortunately, our knowledgeable team can treat a wide range of dental emergencies, like unbearable tooth pain, knocked-out teeth, and dental abscesses, quickly and effectively. Whether you know you need to see an emergency dentist as quickly as possible or you aren't sure if you need to schedule an emergency appointment, please give our office a call. We would be happy to offer some initial advice and begin preparing a treatment room so that we are ready to assist upon your arrival.
Contact Us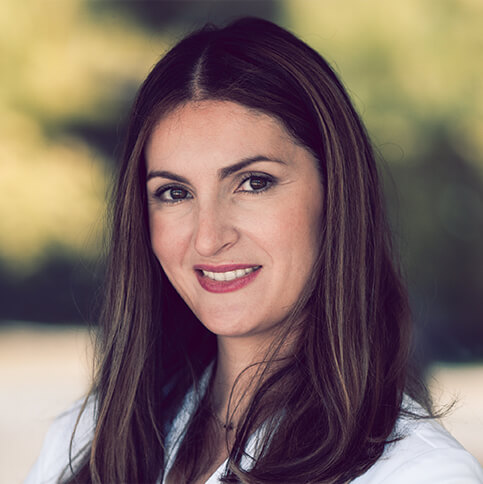 Dr. Maria Serrano
"Alma Dental Care offers a wide range of general dental services that are designed to meet you and your family where you are at on your unique dental journeys."
Contact Us
Free Virtual Consult