Clear Aligner Therapy
in Petaluma, CA
Interested in achieving a straight, uniform smile? Our team at Alma Dental Care would love to help! Dr. Serrano is an experienced dentist in Petaluma who offers advanced teeth straightening treatments. With clear aligner therapy, patients can continue eating their favorite foods and showing off their beautiful smiles without hesitation throughout their treatment. If you're interested in learning more and want to set up a consultation with our team, please contact us!
Contact Us
How does clear aligner therapy work?
Every clear aligner journey begins with a consultation, where our team will go over the entire process with you, take impressions of your teeth, and begin designing your orthodontic treatment plan. Once your first set of aligners has been created, we will set up a quick appointment for you to try them on and bring them home. Then, you will need to wear your aligners as often as possible, or any time you are not eating, drinking, or brushing your teeth.
Occasional check-ups will be scheduled so we can examine your teeth and provide you with your next set of aligners. Before you know it, you'll be done wearing your last aligner, and we'll create a custom retainer to keep your teeth perfectly in place!
Invisalign® vs. SureSmile® vs. Metal Braces
Clear aligners and traditional metal braces are both safe and effective ways to straighten misaligned teeth. However, both Invisalign and SureSmile offer many benefits that metal braces do not, and many patients choose to go with clear aligners for these reasons.
Clear aligners are far more discreet than metal braces, and they do not come with any food or activity restrictions like metal braces do. Invisalign tends to offer shorter treatment times for patients, while SureSmile aligners tend to offer the shortest treatment times of all, assuming the patient wears their clear aligners regularly and attends routine orthodontic appointments. In our opinion, clear aligner therapy is an excellent choice for many!
Am I a candidate for clear aligner therapy?
Clear aligner therapy used to be reserved for patients who had mild to moderate malocclusion. Today, Invisalign and SureSmile can be used to treat a much wider range of orthodontic issues, and with the simultaneous decrease in price, clear aligners are accessible to more patients than ever before. If you are interested in using Invisalign or SureSmile to achieve a straighter smile, our team can assess the position of your teeth and your bite. We will also review your preferences, needs, lifestyle, and budget during your consultation to ensure that clear aligner therapy will be a great option for you.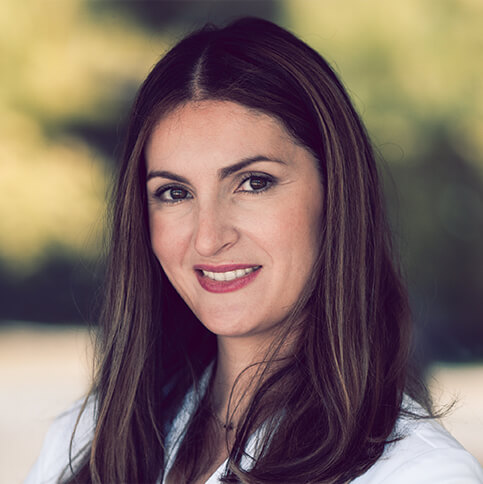 Dr. Maria Serrano
"I love creating custom clear aligner treatment plans, as patients can smile confidently both during and after their treatment!"
Contact Us
Free Virtual Consult